New Photos From JACK RYAN, THE WOLF OF WALL STREET, ANCHORMAN 2: THE LEGEND CONTINUES, NEBRASKA
|

Photo credit: Anatoliy Vorobev. (c) MMXIII Paramount Pictures Corporation. All Rights Reserved.
With fall just around the corner, Paramount Pictures has a lot of films in store for audiences in the coming months.
Chris Pine plays Jack Ryan in this brand new photo from JACK RYAN. Although it's being reported that Paramount has changed the official title to JACK RYAN: SHADOW ONE, nothing has been confirmed yet. Expect to see the first trailer very soon.
Also starring Kevin Costner and Keira Knightley, director Kenneth Branagh's prequel will be out Christmas Day 2013.
Distinguished filmmaker, Martin Scorsese, directs the true story of New York stockbroker, Jordan Belfort (Leonardo DiCaprio). Having started a morally conventional career in the late 80s, Belfort quickly rose from penny stocks and righteousness to IPOs and a life of corruption. Excess success and affluence in his early twenties, as founder of the brokerage firm, Stratton Oakmont, warranted Belfort the title – The Wolf of Wall Street.
Money. Power. Women. Drugs. Temptations were for the taking and the threat of authority was not to be taken into account. For Jordan and his aspiring staff of likeness, modesty was quickly deemed overrated and more was never enough.
From director Martin Scorsese, the film stars Leonardo DiCaprio, Jonah Hill, Margot Robbie, Matthew McConaughey, Jon Favreau, Kyle Chandler, Rob Reiner and Jean Dujardin
THE WOLF OF WALL STREET will be in theaters November 15, 2013.
From director Alexander Payne comes the film NEBRASKA.
After receiving a sweepstakes letter in the mail, a cantankerous father (Bruce Dern) thinks he's struck it rich, and wrangles his son (Will Forte) into taking a road trip to claim the fortune. Shot in black and white across four states, Nebraska tells the stories of family life in the heartland of America.
The film also features Stacy Keach, June Squibb, and Bob Odenkirk.
Paramount Vantage will release NEBRASKA in theaters November 22, 2013.
(Left to right) Paul Rudd is Brian Fantana, Steve Carell is Brick Tamland, David Koechner is Champ Kind and Will Ferrell is Ron Burgundy.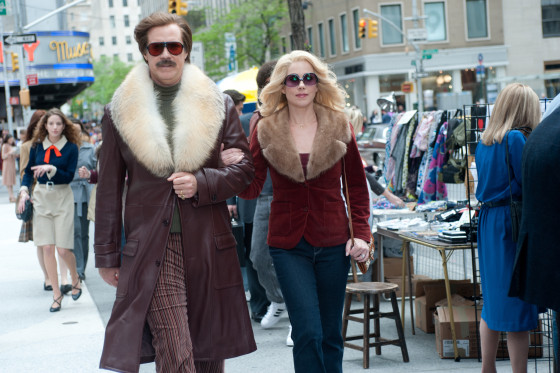 Photo credit: Gemma LaMana. (c) MMXIII Paramount Pictures Corporation. All rights Reserved.
(Left to right) Will Ferrell is Ron Burgundy and Christina Applegate is Veronica Corningstone in ANCHORMAN 2: THE LEGEND CONTINUES to be released by Paramount Pictures.
With the 70′s behind him, San Diego's top rated newsman, Ron Burgundy (Will Ferrell), returns to the news desk in director Adam McKay's new film.

Also back for more are Ron's co-anchor and wife, Veronica Corningstone (Christina Applegate), weather man Brick Tamland (Steve Carell), man on the street Brian Fantana (Paul Rudd) and sports guy Champ Kind (David Koechner) – All of whom won't make it easy to stay classy… while taking New York's first 24-hour news channel by storm.
ANCHORMAN 2: THE LEGEND CONTINUES will be in theaters everywhere December 20, 2013.

(c) MMXIII Paramount Pictures Corporation and Frank's Pie Company LLC. All Rights Reserved.
Kate Winslet, Josh Brolin, Gattlin Griffith and Tobey Maguire
LABOR DAY centers on 13-year-old Henry Wheeler, who struggles to be the man of his house and care for his reclusive mother Adele while confronting all the pangs of adolescence.  On a back-to-school shopping trip, Henry and his mother encounter Frank Chambers, a man both intimidating and clearly in need of help, who convinces them to take him into their home and later is revealed to be an escaped convict.  The events of this long Labor Day weekend will shape them for the rest of their lives.
Based on the Novel by Joyce Maynard. Written for the Screen and Directed by Jason Reitman.
December 25, 2013 (limited)
And just for grins…
Johnny Knoxville is Irving Zisman and Jackson Nicoll is Billy in JACKASS PRESENTS: BAD GRANDPA to be released by Paramount Pictures and MTV Films.
86 year-old Irving Zisman is on a journey across America with the most unlikely companions, his 8 year-old Grandson Billy in "Jackass Presents: Bad Grandpa". This October, the signature Jackass character Irving Zisman (Johnny Knoxville) and Billy (Jackson Nicholl) will take movie audiences along for the most insane hidden camera road trip ever captured on camera.
Along the way Irving will introduce the young and impressionable Billy to people, places and situations that give new meaning to the term childrearing. The duo will encounter male strippers, disgruntled child beauty pageant contestants (and their equally disgruntled mothers), funeral home mourners, biker bar patrons and a whole lot of unsuspecting citizens.
Real people in unreal situations, making for one really messed up comedy.
The film will be in theaters October 25th.
But wait… that's not all. The studio has some extravaganzas heading into cinemas in 2014.
Academy-Award winner Russell Crowe will play Noah in Academy-Award nominated director Darren Aronofsky's NOAH. Based on the Biblical account of Noah's journey, NOAH also stars Academy-Award winner Sir Anthony Hopkins (Methuselah) and Academy-Award winner Jennifer Connelly (Naameh).
The film will be released worldwide in March 2014 followed by Michael Bay's TRANSFORMERS 4 on Jun 27, 2014.