ANCHORMAN THE EXHIBIT Celebrating Ron Burgundy Prior To ANCHORMAN 2: THE LEGEND CONTINUES Dec 20 Release
|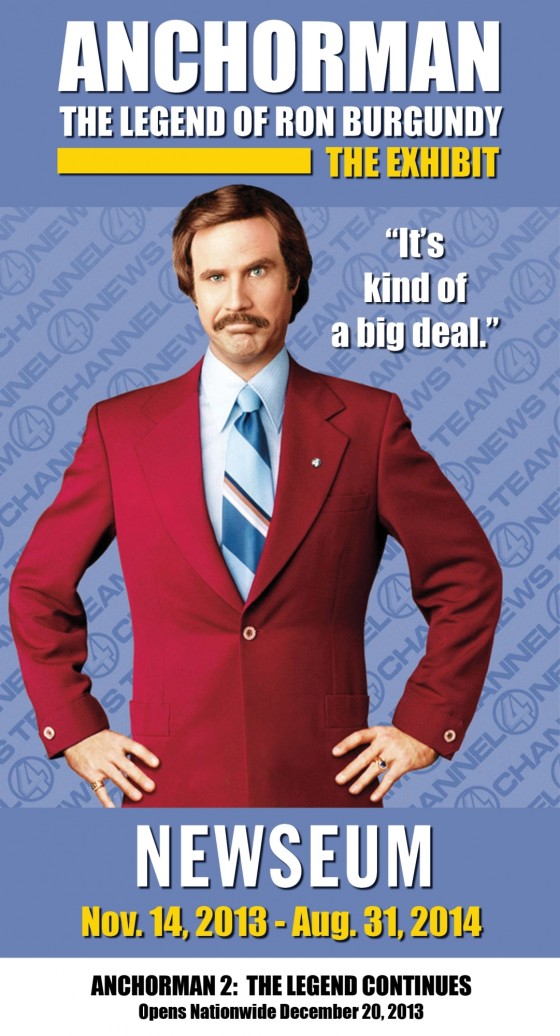 On November 14, 2013, the Newseum, in partnership with Paramount Pictures, will open "Anchorman: The Exhibit," featuring props, costumes and footage from the 2004 hit comedy "Anchorman: The Legend of Ron Burgundy," prior to the release of its highly anticipated sequel ANCHORMAN 2: THE LEGEND CONTINUES from Paramount Pictures on December 20.
The original film, written by Will Ferrell & Adam McKay, directed by McKay, and starring Ferrell, Christina Applegate, Paul Rudd, Steve Carell and David Koechner, takes a comic look at a 1970s-era television newsroom and the legendary local anchorman who ruled it until a female reporter arrived to challenge the all-male news team. "Anchorman 2: The Legend Continues" reunites Ferrell and McKay with the original cast.
Included in "Anchorman: The Exhibit" will be costumes worn by the Channel 4 Evening News team and a number of original props from the movie, including Ron Burgundy's jazz flute and the whip used by rival anchorman Arturo Mendez during the film's memorable fight scene between rival news teams. The exhibit also includes a re-creation of the KVWN-TV anchor desk and news set where visitors can pose for photo ops.
"For millions of viewers, the news anchor represents the authority and credibility of television news. But anchormen and women also are popular targets for pop culture laughs," said Cathy Trost, vice president of exhibits and programs at the Newseum. "The exhibit explores the reality behind the humor of "Anchorman" and tracks the rise of personality-driven news formats in the 1970s."
Visitors to the exhibit also will have an opportunity to step in front of the camera and participate in an Anchorman-themed TV spot at one of the Newseum's Be a TV Reporter stations. With lead anchor Ron Burgundy providing a snappy introduction, budding reporters can find out if they have what it takes to become a member of the Channel 4 News team. The exhibit also will feature clips from the movie and special commentary by Will Ferrell.
"I'm literally trapped in a glass case of emotion," said Ron Burgundy, commenting on his inclusion in the museum's exhibit.
"Anchorman: The Exhibit" will be on display at the Newseum through Aug. 31, 2014.
With the '70s behind him, San Diego's top rated newsman, Ron Burgundy (Will Ferrell), returns to the news desk in ANCHORMAN 2: THE LEGEND CONTINUES. Also back for more are Ron's co-anchor and wife, Veronica Corningstone (Christina Applegate), weather man Brick Tamland (Steve Carell), man on the street Brian Fantana (Paul Rudd) and sports guy Champ Kind (David Koechner) — all of whom won't make it easy to stay classy … while taking New York's first 24-hour news channel by storm. Produced by Judd Apatow, Will Ferrell and Adam McKay. Written by Will Ferrell & Adam McKay. Directed by Adam McKay.
https://twitter.com/RonBurgundy
For more information visit newseum.org or follow us on Facebook and Twitter.